There are times when you want to blur zoom backgrounds.
At that time, I knew that there was a "Blur" in "Background & Filters".
However, I can't find "Blur" in "Virtual Backgrounds" in "Background & Filters"!
I had a hard time not knowing the cause, so I thought that there was a situation similar to my own, so I will post this article.
AD



Conclusion
If zoom is upgraded to the latest version and "Blur" does not appear in the "Virtual Backgrounds", it is likely that the hardware specifications are insufficient.
Even in such a case, there is a method to make the background almost the same as "Blur".
How we came to the conclusion
There are three points that have been implemented in the lead up to the conclusion.
Check zoom version
Review Zoom system requirements
Examination of alternative methods of blurring function
AD



Check zoom version
Since there was an article that supported the blur function from zoom version "5.5.0", I decided to check the zoom version upgrade first. Zoom version
will appear like this when I start Zoom.
In this case, the version is "5.7.1", so it should support the blur function, but blur was not available on my PC, so I thought I would check zoom's official support site.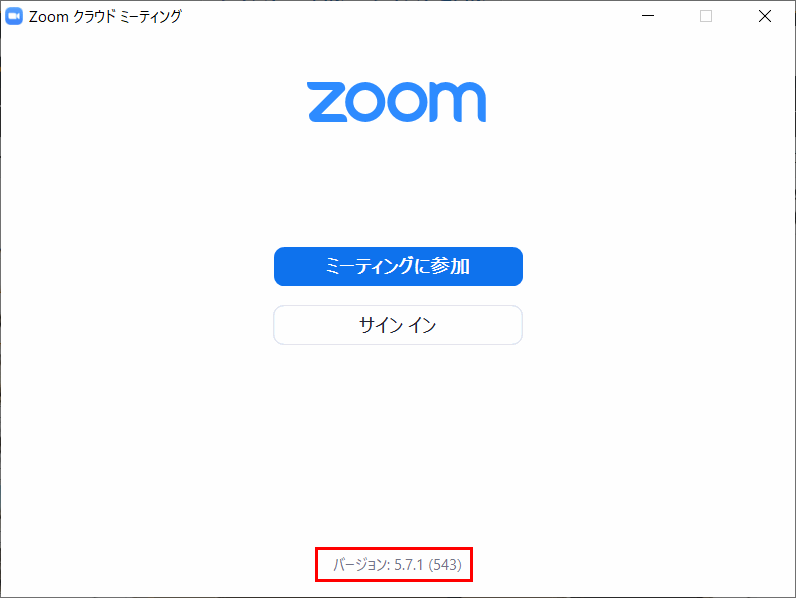 If you want to upgrade, "Sign in" to Zoom and "Check for updates".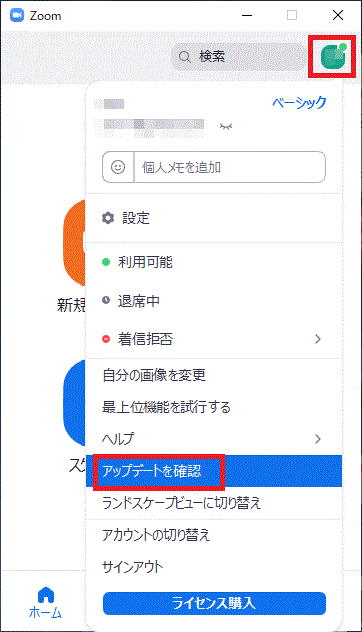 AD



Review Zoom system requirements
Zoom's version supported "5.5.0" but did not display "Blur". So when I checked the description of "Video without a green screen for shooting" in "Virtual Background requirements for Zoom desktop client" on zoom's official support site, I found that the specifications of my
PC did not meet that requirement. If the CPU is Celeron, the blur function seems to be severe.
Pc spec-ups were a tough situation, so we'd consider alternative methods.

In addition, the specifications of the PC used can be checked in "System information".
Here's how to check system information:
Type "Windows Key" + "S" on the keyboard
Enter System Information and press ENTER
Check the Processor item
AD



Examination of alternative methods of blurring function
I thought of two alternative methods.
In either case, a separate background image must be prepared.
Use the green screen of the virtual backgrounds
Here's the procedure:
Launch Zoom and log in
Click the gear (settings) icon in the upper right

Click "Background & Filters"

Check "There is a green screen"
Select the image you want to use for the background from "Virtual Backgrounds"
If the background does not composite well, click the color selection icon and click on the background

The background image has been combined

That's it for the procedure.
If this method doesn't set the background well, try the following:
Place blurred images in the background in Snap Camera
Using "Zoom's virtual background when the virtual background of Zoom is not available on a PC" introduced in "DEKIRU NET", it was available in almost the same state as the blur function. In addition to Zoom, you need to install a separate tool called "Snap Camera".
You can also use the "cartoon filter" in the "Snap Camera" filter to make your face look like this.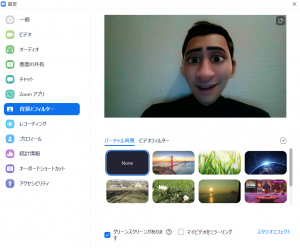 AD



Summary
If you don't see "Blur" in the "Virtual Backgrounds" in Zoom's Background and Filters on your Windows PC, upgrade Zoom and try Snap Camera if that's not the case.
I'm so glad you read to the end.
If you like, I would be happy if you could support or follow or share from the button below.